Angry crowds in India set an office of the BJP on fire, attacked railway infrastructure and blocked roads on Thursday, in widening protests against the newly introduced Agnipath Scheme, a new military recruitment system. The protest today spread to several parts of the country including Haryana, Uttar Pradesh, Delhi, Bihar and Rajasthan.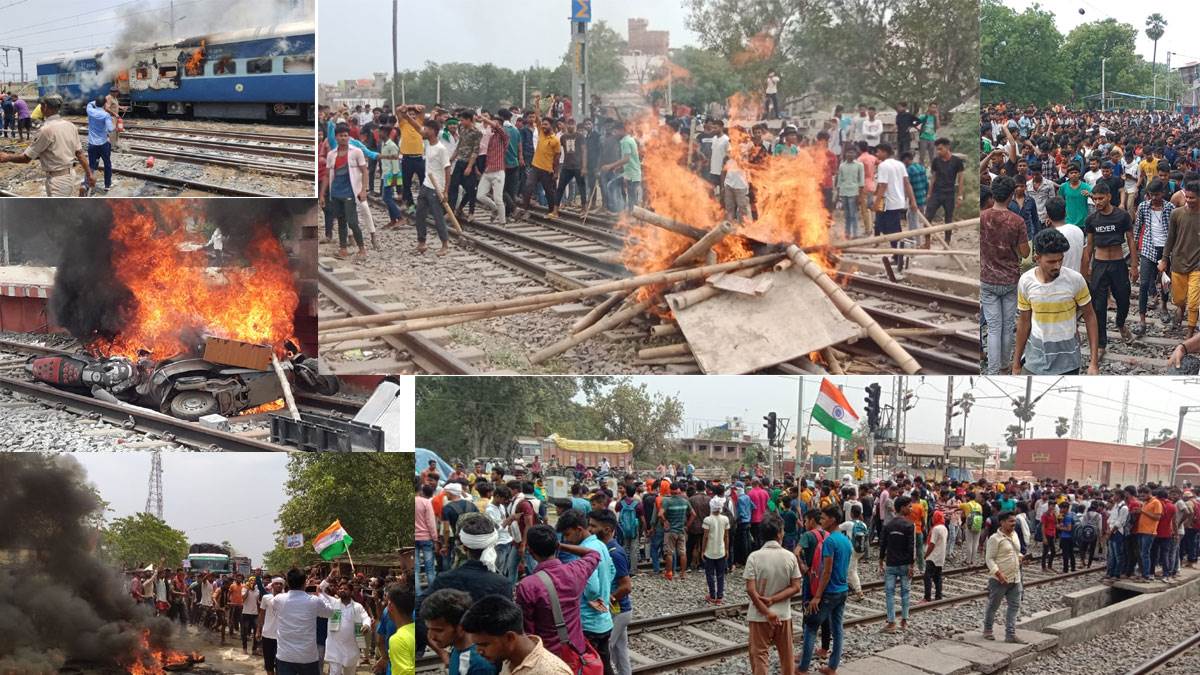 The Union Cabinet on Tuesday approved the Agnipath recruitment scheme which provides an opportunity for Indian youth to serve in the regular cadre of the Armed Forces for a period of four years. However, several aspirants for the armed forces are unhappy with the changes introduced under the new recruitment scheme, particularly the length of service, no pension provisions for those released early, and the 17.5 to 21-year age restriction that now makes many of them ineligible.
READ | Kuwait To Deport Expats Who Protested Against Remarks On Prophet
TOP Development from the BIG Story:
– At least three trains were set on fire in Bihar as protests against the Centre's Agnipath recruitment scheme turned violent in the Chhapra, Gopalganj and Kaimur districts on Thursday. Agitations have spilt over to several districts as youths protested by lying down on the railway tracks and blocking roads, demanding the scrapping of the scheme.
 Huge crowds gathered in the Chhapra, Jehanabad, Munger and Nawada areas of Bihar, demanding the withdrawal of the Agnipath scheme. A group of army aspirants protested at Bhabua Road Railway Station and blocked the tracks before setting a train on fire. "We prepared for a long and now they have brought ToD (Tour of Duty) as a four-year job. We want the old recruitment process back," protesters said.
Hundreds of young people took to the streets in Haryana's Gurugram, Rewari and Palwal against the Agnipath scheme with protesters blocking highways. A police vehicle was damaged in stone-pelting in Palwal and the Agra Chowk on National Highway 19 was blocked. In Gurugram's Bilaspur and Sidhrawali, protesters laid a virtual seize on bus stands and roads and held a protest at Bilaspur Chowk, crippling traffic on the Gurugram-Jaipur highway. The police even resorted to aerial firing to warn protesters who were pelting stones at the residence of the District Collector.
To read and know more news, now you can also follow us on social media – To follow on Twitter, type – @khas_khabar and to read news #khas_khabar live to follow on Facebook You can follow our page @socialkhabarlive.